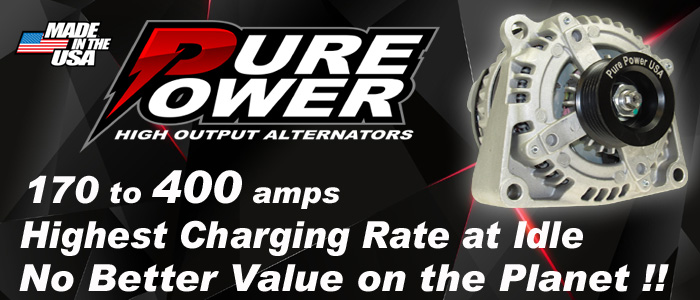 Isuzu High Output Alternators Built In USA
BUY FACTORY DIRECT, 170, 250, 320, 370 & 400amp custom built alternators IN STOCK ready to ship at the Best Price.
High Output Alternators Built In USA
The commitment to quality is built into every Pure Power alternator we sell. They are 100% New, Built with OEM grade Parts 100% of the Time and come with a Lifetime Labor Guarantee! Every Pure Power alternator is tested to meet or exceed the minimum amperage output specifications we advertise and comes with the individual test results printed out the day and time the unit was endurance tested. No other brand can deliver the quality value and service you'll get with your new Pure Power brand alternator.
Experiencing Low Voltage or Low Idle Output
We build the Highest Charging Rate alternator at Idle on the market! This allows your vehicle to charge your battery up to 2 times faster than your old stock alternator while maintaining peak voltage settings thus increases your battery life.
Direct Factory Replacement
All Pure Power Alternators will directly interface allowing easy installation and give you the power you'll need to keep up with demands you are looking for.
Why Choose the Pure Power Brand
The workmanship behind every Pure Power alternator has been tested and proven since 1979. Every builder in our plant assembling your new Pure Power alternator has a minimum of 15 and up to 28 years of experience which is why we are confident in giving you a Lifetime Labor Guarantee. As a company that has been in business over 40 years, we will never take for granted the value of our customers and have always professed, "We would like the opportunity to EARN your business". Given that opportunity today we believe you'll see and appreciate the quality and pride of workmanship that goes into your new Pure Power alternator.
Find the one that fits your vehicle and order yours today.
Thank you
Team Pure Power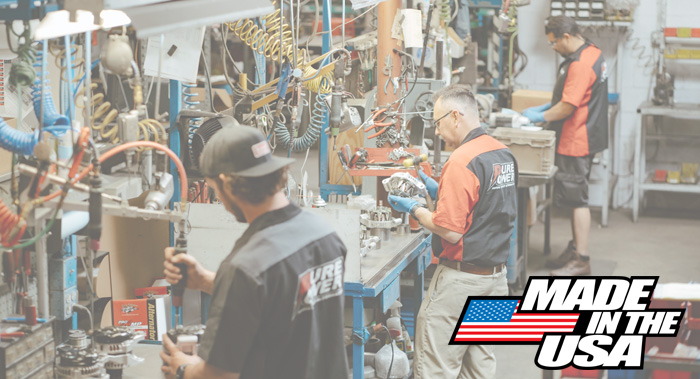 NEED HELP? CALL US 1-520-622-7395

M-F 8-5 / SAT. 9-2


FAST SHIPPING
Orders placed by 2pm EAST will be processed same day