Policies
TAE, Tucson Alternator Exchange/CAE, Copperstate Auto Electric

Best Price Guarantee
Before making a purchase from TAE/CAE website, if you find a lower current price from a local competitor available today, TAE/CAE will be happy to beat the competition's total price by 5%. The competitor's total price is considered to be the Unit(s) cost and Warranty cost. We will not honor the best price guarantee after a unit has been purchased, or for out of town internet prices.

Privacy Notice
TAE/CAE takes your privacy seriously, and we do not share your information with anyone.

Local Delivery
Local deliveries must be signed for by customers upon delivery. If customer is not present to sign for delivery, product will be returned by driver and refunded, LESS THE DELIVERY FEE, no exceptions.

Shipping
We ship FedEx to all 52 states in US.
All online orders customers will receive a tracking confirmation number once the package has left our facility. We process and ship orders Monday through Friday. Orders do not ship on weekends. Customer is responsible for ensuring that FedEx can deliver to specified shipping address. All orders over $200 will require a direct signature upon receiving the package from the carrier. We do not ship to PO Box addresses.

New Returns
No returns are allow on "special orders" or "discontinued" items which is stated on your invoice at the time of purchase. All other in stock items purchased are eligible to be returned for credit within 30 days, IF THEY WERE NOT INSTALLED. Returns that are being shipped back to our facility must have a Return Authorization number that is issued by a company representative at TAE/CAE.
New returned items must be complete, clean and unused, and in their original packaging. We cannot issue return credit for items which have been installed, painted, modified or returned without their original packaging.
If you decide you don't need the item you purchased you are responsible for the returned shipping costs. If you refuse delivery or the carrier returns a package because you provided an invalid address, the cost of return shipping will be deducted from your refund. Refunds can take up to 5 business days to be issued. Providing us with a return tracking number will ensure a faster refund. Refunds will be issued in the same form as you paid, (i.e. Credit card payments will receive credit to the same card used to place the order). You will receive email confirmation when the refund has been issued.

Core Returns
Some starters / alternators we sell have a core charge associated with them. (The customer is responsible for the core return freight charges)
The core charge is a deposit to encourage the return of old starter / alternator to be remanufactured. You pay the core charge when you place your order. If you return the old starter / alternator to us, we refund the core charge. To receive credit, cores must be returned within 30 days of the date your order was placed. Cores must be complete, non damaged, rebuildable, fit the same vehicle application and be returned in the box the remanufactured starter / alternator came in. This means the starter / alternator you send back needs to have whatever components (like pulleys) came on the remanufactured starter / alternator.

Ship your core back to:

Tucson Alternator
1401 E. 20th St
Tucson, AZ 85719

Please type your order number outside the box or include a copy of your order confirmation for fast credit processing.

Warranty Exchange
All TAE brand Alternators have minimum 1 YEAR warranty, extended LLT warranty can be added at time of purchase.

Length Of Warranty:
The Limited minimum 1 YEAR or lifetime warranty is issued to the original purchaser of the TAE brand starter / alternator and owner of the automobile on which the starter / alternator is installed and in nontransferable. TAE/CAE warrants that if the part that you purchased fails as a result of defective workmanship or material and or wears out we will replace such starter / alternator.


Pure Power Brand 24 Month & LifeTime Repair Warranty
Pure Power Series brand alternators come with a limited warranty for a period of 24 months and with the option of purchasing a limited LifeTime warranty. This limited warranty allows the customer to return the alternator for warranty repair service within 24 months or LifeTime of the original purchase date. This warranty is non- transferable from the original purchaser.
If the alternator is found defective due to failed parts or workmanship, the alternator will be repaired and returned to the customer. If the alternator is found to be defective due to misused or damaged in any way by the customer, customer will be given an estimate cost to repair the alternator.
No refunds will be issued back to the customer due to a warranty. The customer must include a valid proof of purchase with the alternator in order to receive warranty service.
The customer is responsible for any shipping costs to the repair facility if and when warranty repair is needed. Return shipping costs will be paid for by Tucson Alternator Exchange for addresses within the continental U.S. 48 states only. Any customers located in Alaska and/or Hawaii will be responsible to cover the cost of shipping the item. The limited warranty is non-transferable and does not cover the following:
Transportation expenses.
Compensation for any inconveniences or loss of use of the alternator.
Reimbursement for a rental car, time-off work, loss of income, towing charges, legal fees, or any other consequential damages.
The cost of labor or any other parts required to remove the defective or worn out alternator.
The limited warranty is void if the alternator is modified, misused, abused, improperly installed or is not used in the application for which it was designed.

Pure Power Brand Powder Coating Service
All of our Powder coating jobs are performed using only the highest quality powder and are non refundable.

Disclaimer And Exclusions To Coverage Applicable To All Above Warranties
THIS WARRANTY DOES NOT APPLY TO PARTS IF:

1.- Installed in vehicles used commercially or for racing.

2.- Modified, abused, altered, improperly installed, or damaged by accident, negligence or misuse.

3.- Alternator or Starter is BURNT from over charging or over cranking.

4.- Products which have been damaged subjected to contamination, oils, radiator fluids, water flooding and or damaged from improper installation and or disassembled.


The Warranty Excludes:
1.- Transportation expenses.

2.- Compensation for any inconvenience or loss of use of the part.

3.- Reimbursement for a rental car, for time off work, loss of income, towing charges, legal fees, or any other consequential damages.

4.- The cost of labor or any other parts required to remove the defective or worn out part.


THIS LIMITED WARRANTY REPRESENTS THE TOTAL LIABILITY OF TAE/CAE FOR ANY WARRANTED PART, MAKES NO OTHER WARRANTIES, EXPRESS OR IMPLIED, INCLUDING THE IMPLIED WARRANTIES OF MERCHANT ABILITY AND FITNESS FOR PARTICULAR PURPOSE. TAE/CAE SHALL HAVE NO LIABILITY WHATSOEVER FOR ANY CONSEQUENTIAL OR SPECIAL DAMAGES.

WHERE AND HOW WILL THE WARRANTY BE HONORED?
All starters / alternators under warranty must be returned to TAE/CAE along with valid proof of purchase.
Automobile Starters - Engine Starters - Automotive Starter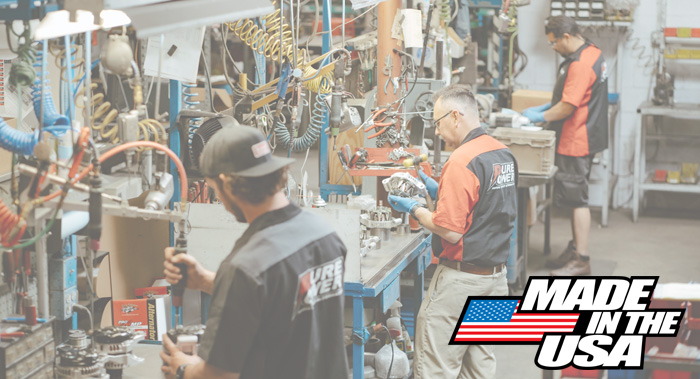 NEED HELP? CALL US 1-520-622-7395

M-F 8-5 / SAT. 9-2


FAST SHIPPING
Orders placed by 2pm EAST will be processed same day